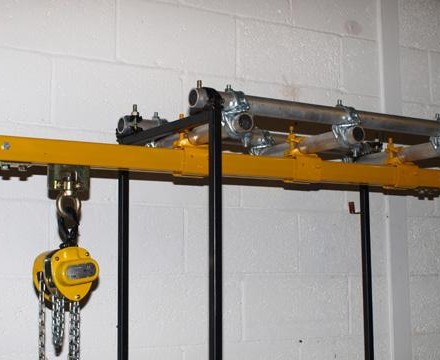 The Scaffolding Runway System is unique to Niko and provides a solution for lifting and moving loads throughout a scaffolding support structure:
The scaffolding runway system connects directly to scaffolding poles.
It enables the movement of heavy items around a scaffolding structure.
Manual and electric hoists can be used in conjunction with the scaffolding runway facilitate lifting.
Its modular design incorporates straight lengths, curves and switches so that it can be designed to accommodate a wide range of applications.
All scaffolding runway system components conform to Niko quality systems and specification as detailed in the C1 conveyor systems brochure.
Some 25, 26 and 27 series components have been approved to EN795 for fall arrest applications (seek technical advice before using the scaffolding runway system for this application).
This system can be used to make a scffolding crane by suspending a bridge across two parallel scaffolding runways using Niko end carriage trolleys.